l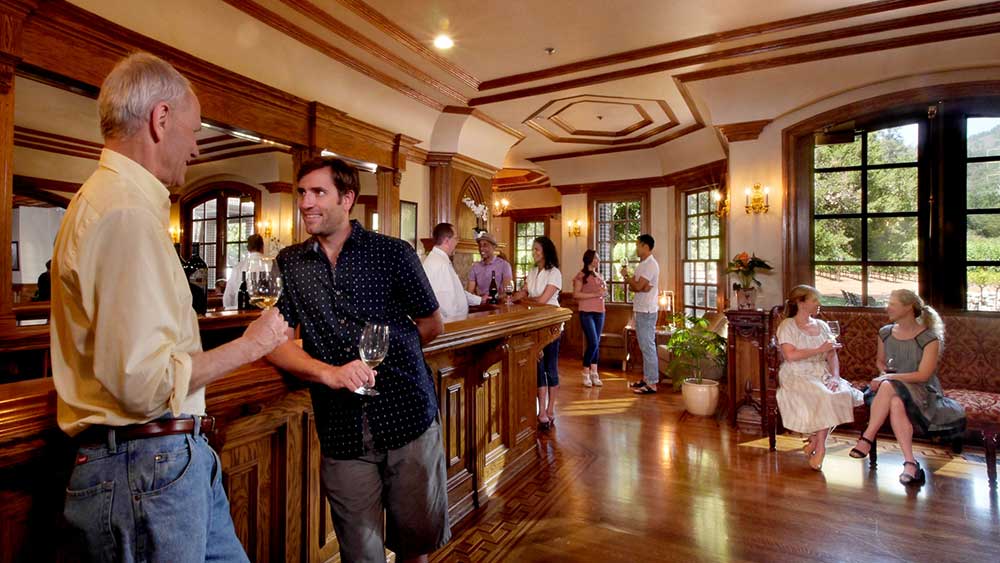 NOBLE TASTING BAR
The Noble tasting bar is named for Steve's Father, Noble Ledson. Noble was everything you could ever want in a father. Warm hearted, matter of fact, hard-working, honest, and full of genuine love for his family and friends, there could not have been a better example to help mold Steve Ledson into the man that he would become. Noble brought farming back to his family, and also founded a dairy in Sonoma County that would eventually become Clover Dairy. Noble had a sincere love for the outdoors, and made sure to pass that love down to his children. Visitors that taste at the Noble tasting bar will experience Noble's warm heart and unrivaled friendship, while enjoying some of our best wines with grand views of the castle grounds and the beautiful vineyard beyond.
CLASSIC WINE TASTING – $35 PLUS TAX
Visitors to Ledson Winery are invited to taste handcrafted varietal wines in one of our meticulously designed tasting bars. Our experienced staff is on-hand to offer recommendations, provide information and ensure the thorough enjoyment of your tasting experience.
 Every time you take a trip to Ledson Castle, you're stepping into a place that's immersed in history. When you take part in one of these Classic tastings, you'll do so from one of three bars, each named for a loved and impactful member of the Ledson family: Steve's father Noble, and Steve's uncles, Winslow and Whitby.
The Whitby tasting bar was named for Steve's uncle, Whitby Ledson. The youngest of "The Ledson Boys," Whitby was an avid farmer, participating in FFA competitions with his brothers, and even starting a business with them while in high school, delivering home goods to their neighbors. Whitby returned from World War II to become a cattle rancher, and eventually branched out into the restaurant business, before finally settling into working for two of the most prestigious family-owned wineries at the time: B.R. Cohn, and Kunde. Visitors that taste in the Whitby tasting bar will experience Whitby's devoted work ethic and kind heart, while enjoying outstanding wines with breathtaking views of the castle grounds and the vineyards.
The Winslow tasting bar is named for Steve's uncle, Winslow Ledson. Winslow was the middle child of "The Ledson Boys," taking part in competitive high school livestock fairs, their own local business, and eventually following Noble to college in San Luis Obispo. After the war, Winslow returned home and took a job at Lucas Dairy in Marin, worked his way up the ladder, and when the dairy was finally purchased by Clover, was named General Manager of Clover Dairy. Visitors that taste in the Winslow tasting bar will experience Winslow's inviting and understated nature, while enjoying unparalleled wines, and taking in the incredible views of the castle grounds and vineyards.