This is the story of five generations, spanning two centuries with one common family trait – a dogged determination and tireless work ethic in pursuit of their dreams. It is the story of sauterne for breakfast and castles built of prune boxes. It is a larger than life story… and much of it is true.
From Riches to Rags to Ranching
1896
The story begins in 1896 England, where Barker Ledson–a scion of means for whom means meant nothing–yearned for the new world and all the adventure that it promised. At age 16, he and his two similarly spirited brothers, Tom and Stanley, left behind royal bloodlines, country estates and a sure future–not to mention the family fortune–to set sail for America.
Their first stop was Iowa where their aunt owned a ranch. The boys worked the ranch essentially for room and board until Barker was lured away by a much greater adventure. Surveyors were needed by the railroad to map the vast and unforgiving Mojave Desert. It was thankless work, but not without benefits. Part and parcel of working in "no man's land" was the lack of spending opportunities. Barker was able to pocket almost all the money he made during his grueling five-year stint.
Flush with his railroad earnings, Barker was able to purchase a 600-acre ranch in Yosemite, near the town of Cathay. At age 22, Barker Ledson was an American landowner. Brothers Tom and Stanley came out from Iowa to run the ranch with Barker. While Barker enjoyed nothing more than working the land and working with family, he longed for new opportunity and San Francisco seemed just the place for someone with Barker's ambition.
Once in San Francisco, however, jobs were not plentiful; a fact that might have dissuaded a lesser man. But Barker Ledson was not to be denied. His employer of choice was the City Ice Company and the fact that they were not hiring seemed of little significance. Barker pointed to the potholes in the driveway and the dirt on the floors and said that he would clean and repair the facilities at no charge. City Ice was happy to have a volunteer employee and it wasn't long before all the ice truck drivers were so fond of the hard-working Barker that they convinced management to bring him on as a full-time employee–a move that proved to be a defining point in young Barker's life.
He rapidly worked his way up the ranks at City Ice, eventually becoming General Manager. A few years later, City Ice merged with National Ice and San Francisco Ice to form San Francisco National Ice Company. Barker needed to fill key positions and called upon his brother Tom to run the new Oakland office – making him the first of over a dozen family members employed by Barker. Stanley stayed on to run the Yosemite ranch, and by this time Barker's two other brothers had moved from England; George moved to Tennessee where he became editor of the Shelbyville Times and Joseph, the only brother to claim some of the family fortune, moved to Canada where he established himself as an innovator in farming as well as horse breeding and racing.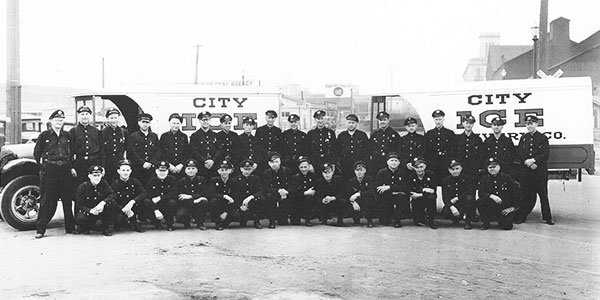 A Match Made in Wine Country
1910
With his business life a success, it was time for bachelor Barker to find a wife to share in his great accomplishments. Barker Ledson met Edna Cunningham in 1910, when he invited his regular and growing group of prominent San Francisco cronies to go dove hunting at the Cunningham Ranch in Windsor. Edna was helping to serve lunch to the men when she caught Barker's eye. Within three years they were married.
Edna's father, William, was immediately taken with Barker as they were cut from the same overachiever cloth. William's father Zina, a gold miner who also emigrated from England, had previously owned and operated a blacksmith shop on the site that is today the Palace Hotel in San Francisco. In 1862 he moved his family to the 160-acre ranch in Windsor. As William came of age, he took over management of the Cunningham Ranch. He planted 35 acres of Zinfandel and Aleatico vineyards, built elaborate ranch and winery facilities and was known throughout the county for his flamboyance. He was very active in the community and held a seat as Sonoma County Supervisor from 1917-1925 and board member for Exchange Bank. William was a prominent and influential early member of the Wine Syndicate grower co-op, having produced and bottled 8,000 gallons of commercially available wine as early as the mid 1860's. After Zina's death in 1901, William and his wife Hannah continued to operate Cunningham Ranch.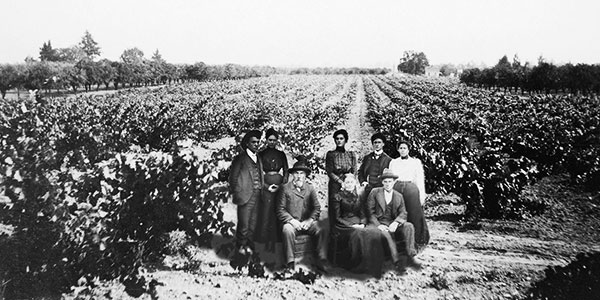 1919
The union of the Ledson and Cunningham families marked the beginning of a farming legacy that continues today. William sold the Cunningham Ranch in 1919 to buy a 105-acre ranch in Kenwood. Shortly thereafter, Barker and Edna, who had been living in San Francisco, moved with their three young sons, Noble, Whitby and Winslow to a 1600-acre ranch adjacent to William's property on what is today part of Oakmont and Annadale State Park. The two families worked the ranches cooperatively. While William and Hannah grew prunes and hay on their property, Barker spent the weekdays in San Francisco running San Francisco National Ice Company and Edna – an extremely sturdy, hard working woman, with a penchant for detail that included daily sweeping of dirt pathways and color coordinated gardening tools – raised cattle and harvested Eucalyptus on their ranch. Edna and her sons loaded their Eucalyptus on trains bound for the San Francisco National Ice Company, where Barker used his ice trucks to deliver the Eucalyptus for firewood in the afternoons, essentially creating an entirely new business using existing delivery routes.
1937
For years the two ranches prospered, until in 1937 Barker Ledson died at age 57 of a heart attack while weekending at the family ranch. This was a terrible blow to a family who had come to depend upon him as the patriarch. Many of the family members who had relied on Barker for jobs or support over the years went their separate ways. The large extended family unit that Barker cherished could not be sustained in his absence. Fortunately, his half ownership of the ice company provided Edna and the boys with the means to carry on. Barker's brother Tom had preceded Barker in death so Edna was left to manage the ranch, relying on her boys and the support of her brother-in-law Penn Rich and his sons, Clifford and Ken who had years earlier taken over William and Hannah's ranch after their deaths. Clifford was still managing the ranch in 2009, personally discing, pruning, and spraying the 35 acre walnut orchard planted to the property until he died just four days shy of turning 98.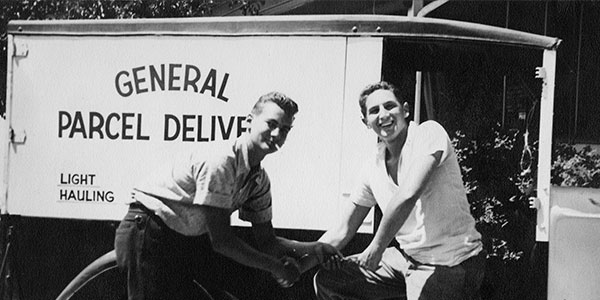 Sonoma Valley's "Ledson Boys"
1942
The "Ledson Boys" as everyone in the valley knew them – Noble, Winslow and Whitby – had inherited their parent's love of farming and ranching. Throughout high school each was active in FFA, with Noble and Winslow winning coveted national livestock competitions. Like their father before them, the entrepreneurial bug bit early on when they observed the need of many of their rural neighbors for home delivery of basic essentials. They pooled their resources to purchase a run-down, old truck which they re-built and used to deliver packages after school and on weekends. Their little company, General Parcel Delivery, thrived until it was time to go off to college – a promise they had made to their mother. Secure in the knowledge that farming was their future, all three went on to study agriculture at Cal Poly San Luis Obispo.
It was 1942, all three of the boys had graduated college and were anxious to begin the next chapter of their lives when World War II was declared and they, like others their age, were called into service. Winslow entered officer training school, while Noble and Whitby both became airplane mechanics in the Army Air Corps. Fortunately the end of the war found all three safe and sound and ready to get back home and get on with things.
1942
After the war, and his return back home, Winslow took a job at Lucas Dairy in Marin. In 1942 Winslow Ledson married Helen Duignan and together they had one child, Gary. Winslow worked his way up the ladder at Lucas Dairy, managing various aspects of the busy dairy until it was purchased by Clover Dairy, at which point Winslow was named General Manager of Clover Dairy. During his stay with Lucas and Clover Dairies, Winslow and his family lived in San Rafael where he began to purchase apartment buildings and other small residential property. They lived in the apartment buildings, fixed them up and re-sold them at a profit. By the time he was ready to retire from Clover Dairy in 1980, he had amassed a sizable real-estate portfolio and property management business, which he continued to oversee until his death at age 73 in 1991.
1944
Whitby, the youngest of the three, decided to return to San Luis Obispo after the war to become a cattle rancher. The family always had cattle and Whitby enjoyed the challenge of starting with a few head and building towards one of the largest cattle ranches in the area. Whitby became well known for the quality of his beef, so much in fact that he eventually opened his own restaurant in San Luis Obispo, The Tower. In 1944 Whitby Ledson married Patricia Lawrence and together they had two children, Leonard and Mary. Whitby enjoyed a full and very busy life as cattle rancher and restaurateur until in 1968 the city of San Luis Obispo, in an attempt to keep up with the demands of a growing population, decided to widen the streets – a move that virtually eliminated The Tower's parking and essentially brought an end to their restaurant business. Whitby decided the time was right to sell all and move back to Kenwood, and to an exciting position as a ranch and vineyard manager for the Kunde family. He stayed with the Kundes for years until in 1980 he went out on his own managing vineyard operations for B.R. Cohn winery as well as many of the area's top growers. Whitby never retired, preferring instead to work every day in the vineyard until his death at age 77 in 1997.
By the time Noble returned home to Kenwood, Edna had sold the family ranch to a steamship builder named Joe Coney who renamed the ranch Annadale and eventually donated it to the California Parks Department. To this day, markers in the Annadale Park–Ledson Marsh, Steve's Trail–reflect the Ledson legacy. After selling the ranch, Edna moved to Spring Street in Santa Rosa where she worked as a nurse, first at General Hospital and then, once it was built, at the new Memorial Hospital. After retiring in the mid-sixties, Edna moved to the Ledson Ranch to be closer to her son Noble; helping out with the chores and reveling in the ranch life that she loved until her death at age 81 in 1973.
Noble's wish was to continue the Ledson family tradition of farming. He founded his own dairy farm, Meadowlark Farms Dairy, on Warm Springs Road in 1944. It was a complete operation; he owned and milked the cows, he bottled the milk and delivered all over Sonoma Valley. So successful was his dairy and so valuable his route that in 1954, shortly after his brother Winslow became General Manager, Clover Dairy purchased Meadowlark Farms Dairy and contracted Noble to distribute Clover milk in Sonoma Valley. Freed of the time-consuming milking and bottling operations, Noble built his distribution territory to include both Sonoma and Napa Valleys – and still had time left for other ventures given his penchant for 16 hour workdays. The farmer in him was not to be denied. He purchased or leased property all over Sonoma Valley where he raised cattle and grew prunes, hay, walnuts, and of course, wine grapes. Like his brothers, Noble was naturally gregarious and engaging, and because of their many ventures the Ledson boys knew and were known by just about everybody in the Valley–amassing endless friendships and contacts that would serve them and their children well in years to come. They were, like the Kundes, Rossis and Stornettas, one of the most prominent farming families in Sonoma Valley.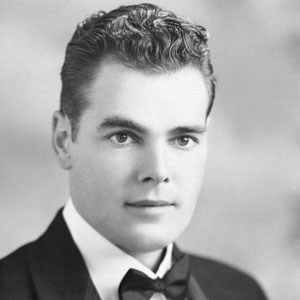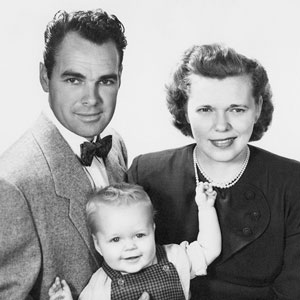 1946
While his various businesses were growing, so was Noble's family. In 1946, he married Virginia Martinson, an Iowa transplant who had met and captured Noble's heart when he was home on leave during the war. Together they had two children: Steven Noble Ledson born in 1952 and Nancy Ledson born in 1955. Virginia went on to do all of the bookkeeping for Noble and eventually Steve until she retired in 1994. From the start it was clear that Steve had the drive, the farming instincts, and the bullheadedness of the Ledson and Cunningham clans combined.
Early on Noble instilled in Steve the importance of hard work and a good breakfast. Believing that sauterne increased appetite and convinced that a full day's work required a full stomach, Noble and Steve started each day with a small glass of sauterne, drawn from the two-gallon jug they re-filled monthly at Pagani (now Kenwood) Winery. Whether it was the sauterne or the expectations of a no-nonsense father, by age six, Steve was a full-time farmer in training; he could drive a tractor–albeit with the help of a grown-up who could reach the pedals–tell the difference between a prune tree and grapevine, tinker with farm equipment, and bid on beef cattle.
Keeping pace with Noble was no small task, especially for a small boy, but Steve was remarkably hard-headed for his age — a fact that served him well on one ill-fated father and son outing. While hiking along Bear Creek in Adobe Canyon during Christmas vacation, Steve took a fall 30-feet into the creek, where he preceded to float downstream a quarter of a mile before being yanked to safety by Noble. Bleeding and pretty woozy, Steve was coaxed by his dad to "be a man" and walk home, which he did before passing out and being rushed to the hospital, where he remained for thirty days! That didn't even include the six months it took for a full recovery, which caused him not to finish kindergarden. Fortunately, near-death experiences are lost to children of seven and after a short period of recuperation, life returned to normal for Steve.
Always tinkering, always keeping busy, Steve's first foray into architectural design took place when he was helping Noble pack prunes for one of their bigger clients, Del Monte. Steve gathered empty prune boxes and over the course of the entire day, created a nine-foot tall, multi-level "castle", complete with doors, windows and balconies. It was his pride and joy, but it was lacking a critical real-estate component, which in later years would become a cornerstone of Steve's success – "Location, Location, Location." Unfortunately the prune palace was erected right in front of the loading bay, and by the next morning, Steve's dream house had been leveled to make way for the delivery trucks.
Steve's flair for construction next took shape when he constructed his first soap box derby car. Although missing out on the winner's trophy by less than an inch in a thrilling photo-finish, 13-year-old Steve was awarded the prize for the best constructed car.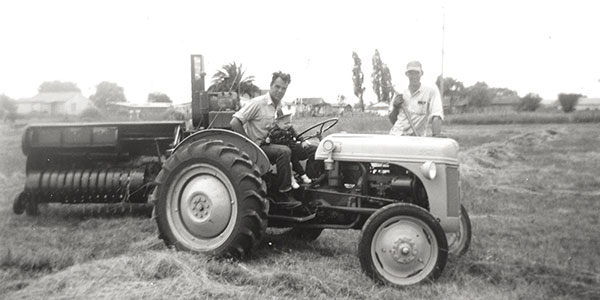 Making Hay While the Sun Shines
Steve continued to work at his father's side throughout his school years, and although Noble didn't believe in paying his son, he did give Steve the tools to earn his own money. Noble taught Steve how to bid on cattle, which started a decades-long business of purchasing spring calves, fattening them up and re-selling them for profit. Noble also provided Steve with his first baling equipment, which Steve, together with cousins Mike and Marz used to create their own after-school, hay baling business. By the time he was in high school Steve had earned enough money from his various before and after school farming ventures to buy a 1965 Corvette Stingray. As he neared graduation, it was clear that he was different than most kids his age; Steve already knew what it was to have his own business and make his own money, he knew he did not want to go to college. Most importantly, Steve knew the future was his to make.
Concerned that farming was being phased out in Sonoma Valley in favor of rapid development, Noble encouraged his son to pursue a career in construction. Steve respected his father's advice, and while he was not prepared to give up his various farming endeavors, he did agree to pursue a "day job" in the building industry. After two years apprenticing with Frontier Electric he took a job taping drywall for Associated Specialties. Like his grandfather Barker, Steve's big break came when he seized an opportunity to impress his employers with his initiative. The year was 1973, Steve was assisting a drywall journeyman named Denny Roper, who had convinced their boss that the relatively inexperienced Steve could cover his workload while he went on vacation. On the first day of Denny's vacation, Steve was presented with a job list double Denny's usual output. Never one to back away from a challenge, Steve worked day and night managed to finish all the houses. Needless to say, he had made an impression.
Unfortunately the result of his zeal was an offer to take over Denny's position. Only 21 years old, married since right after high school to Michele and already the father of four-year-old Mike and one-year-old Tonja, Steve was tempted by the promotion and raise–but not at the expense of his friend Denny.
No Guts, No Glory
Together, Steve and Denny left Associated Specialties to start their own business, Northwestern Drywall, using Denny's state license. Their first break came almost immediately when Oakmont Properties, a former client of Associated Specialties who knew the quality of Steve's work, hired them for a new housing development. Timing was on their side, the housing boom was in full swing and within two years Steve had 100 employees and had opened a second non-union branch to handle public works and government contracts. Steve hired his sister Nancy's husband John Salerno to run the new operation, which was named Northeastern Drywall, in recognition of John's east coast roots. In addition, Steve maintained his daily involvement in the ranches he worked with Noble, rising at 4 am each day to log a couple of hours before heading off to the job site.
In 1975 a local contractor named Wayne Elzey came to Steve with an offer that would catapult Ledson from contractor to developer. Elzey had pre-sold a number of homes, but did not have the capital to build them. Between his ongoing cattle, hay, and contracting businesses, Steve had the money to invest and together they became Elzey and Ledson Construction. Those initial houses led to subdivisions and before long the two had projects scattered from the Bay Area to the Oregon border.
But once again it was the Ledson family tradition for tackling the impossible that marked Steve's greatest construction success. It was the late seventies and a 76-house development in Covelo, Ca. had come to a screeching halt after only 20 homes had been framed – the drywall contractor had been fired for poor work and a severe dry-wall shortage prevented anyone from being able to finish the job on schedule. Steve knew he could find the drywall and complete the job on time but felt that with everything else on his plate – by now he had purchased and was farming over 2,500 acres in Mendocino–the project was too big. He submitted a bid for an amount that would make it worth his while and assumed it would be too high to be accepted. But the developers were up against a deadline and they had no choice but to award the project to the only person who could pull it off. It was a huge financial boon, and was followed by a series of successful gambles that provided both partners with the financial capital to pursue their separate endeavors.
Building the Family Business
In 1977 Ledson Construction was born. By this time Steve's two children were just starting school and his wife Michele, who had been managing the books for Steve, was able to devote more time to the business; taking an active role designing the interiors for new Ledson projects. Steve, together with his father Noble and son Mike continued to manage and work their various family ranches and farms. His sister Nancy and her family lived nearby as did his uncles Whitby and Winslow and numerous cousins. Most importantly Steve was in a position to do what his grandfather Barker had done so many years before, share his success by creating jobs for an ever-increasing number of family members. Steve gave Northeastern Drywall to brother in law John Salerno and brought his cousin Leonard (Whitby's son) down from Oregon to run Northwestern Drywall where both his son Mike and nephew Andy were also employed.
By the late 1980s Steve Ledson was financially secure, professionally respected, and surrounded by family, including newest member, daughter Kristina, born in 1987. Only in his thirties, he had achieved more than most, but not as much as he wanted. Although he had never given up his various agrarian pursuits, over the years, working the land had taken a backseat to building houses. It was time to change focus: to follow his passion and restore the family's farming business. In particular, Steve wanted to grow grapes, something his great grandfather, his father, and his uncle before him had done. As usual, the opportunity presented itself at just the right time.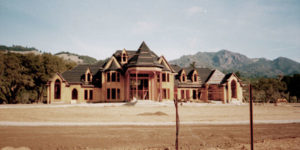 A Wine Family Returns to its Roots
1989
In late 1989 Ledson Construction was about to break ground on a spec house and vineyard property in the heart of the Sonoma Valley wine country, when a partner in the project pulled out. Convinced that the 21-acre property–with views of the corner of Annadale Park that was once Steve's grandparent's ranch–was the perfect spot for his dream house and vineyard; Steve jumped in. He immediately set about making it his own, planting 17 acres to Merlot and designing the ultimate architectural showpiece. By the time of their first harvest in 1993, the 16,000 square foot Gothic, French-Normandy structure replete with a custom-colored brick edifice, slate tile, turrets, balconies, and fountains had begun to take shape and stop traffic. Steve realized that "The Castle", as locals had come to call it, was long on looky-loos and short on privacy. Based upon the public interest and the quality of their first harvest, Steve decided to transform the house into a winery and tasting room and to build the family home elsewhere. A quick change of plans was followed by four painfully long years acquiring commercial permits and two more years of re-construction before the winery's eventual completion.
Years of farming had endowed Steve with an instinct for making things grow and grow well – and before long his grapes were very much in demand; purchased by many of the most prestigious local wineries including: Benziger, St. Francis, and Sebastiani. In fact it was St. Francis winemaker Tom Mackey who, knowing that Steve wanted to make ultra premium wine, urged him to produce his own estate wine. In 1997, Ledson Winery released its inaugural vintage, the 1994 Ledson Estate Merlot, to broad critical acclaim and in 1999 the winery opened its doors to the public.
Since then, Ledson wines have garnered excellent reviews from the elite wine press including a 93 point rating from Wine Spectator Magazine for their 1997 Reserve Carneros Chardonnay. Ledson Winery offers a broad spectrum of varietal wines including: Sauvignon Blanc, Chardonnay, Pinot Noir, Sangiovese, Merlot, Cabernet Sauvignon, Cabernet Franc, Zinfandel, Syrah, Petite Sirah, Barbera, Malbec, Meritage, Rosé – all available at the winery, the Ledson Hotel, and at select fine restaurants throughout the country.
In addition to the 17-acre estate vineyard, Ledson Winery & Vineyards includes 21 acres on Denmark Road in Sonoma, planted to 100+-year Old Vine Zinfandel, Petite Sirah, Syrah and Barbera; 5,500 acres in Mendocino County's Anderson Valley where Pinot Noir and Chardonnay will be planted; and 11 acres of 100-year-old Zinfandel planted in Sonoma County's Russian River Valley. In the future, Steve hopes to replant to wine grapes thirty-five acres of the 105-acre Kenwood Ranch originally cultivated by his great grandfather, William Cunningham in 1919.
Today, Ledson Winery & Vineyards produces more than 70 wines annually–representing the largest ultra-premium wine portfolio of any family-owned winery in the United States. At upwards of 20 different varietals and blends, from as many as 20 appellations, ranging in price from $18 to $250, there is a Ledson wine for every palate and every pocketbook.
Steve jokes that the only thing Ledson Winery has more of than wines are family members – and he wouldn't have it any other way. The winery is a hub of Ledsons – both those born into the family and those "adopted" by Steve along the way, including the winery's employees and many of its long-time customers.
Steve's daughter Kristina worked at the winery for a while, while various family members regularly pitch in during busy weekends and special events. Over the years, dozens of cousins, nephews, nieces and employee's children have also taken part in the winery's apprentice program including Johnny, Andy, Kirsten, and Katie who have worked there their entire lives. Even though they divorced almost 16 years ago, Steve and Michele remain close with Michele continuing in her roles both at the winery and the Ledson Hotel.
It's All in the Family – and These Days Everyone is Family
 After successfully managing one of Ledson's premier commercial real estate properties–the landmark Rosenberg Building in downtown Santa Rosa, CA–Steve's wife Amy Ackerman joined the winery full time in 2001 to head up the accounting department. With a shared passion for business and wine, Steve and Amy make an impressive team; working together to manage every aspect of the winery; from the site specific farming of their vineyard holdings to the winery's meticulous fermentation, aging and blending protocols in the cellar. Amy has even taken on several solo wine projects including the 2005 "Amy's Vineyard" Zinfandel, a wine made from the Russian River Valley vineyard named for her by Steve.
Although he passed away in 2004, Steve's father Noble remains the heart and soul of the winery. A gregarious raconteur with an endless repertoire of old Sonoma Valley stories, he routinely consulted on the grape growing and winemaking at Ledson Winery, drawing on his life-long valley friendships to unearth prime, new vineyard sites. When not holding court at the winery, Noble was either farming his beloved walnut orchard or hitting the road in his tricked-out RV with bride and fellow adventurer Meg. No matter where Noble was, at home or on the road, not a day went by that he didn't start each morning with a phone call to his son, Steve. Sometimes it was to check in, sometimes to offer up encouragement or advice, and every so often to give a swift, telephonic kick in the butt. His voice at the end of the phone line is gone, but Noble's spirit lives on.
The same is true for Steve's cousin Leonard, who passed away in 2001. A renaissance man, who lived life to its fullest, Leonard had a long list of accomplishments. After returning to San Luis Obispo after the war, Leonard joined his father, Whitby, in managing the family's cattle ranch as well as working nights at the Cafe. During this time, Leonard also became a commercial pilot, logging more than 5,000 miles for Air California before retiring to start his own charter air business transporting breeding poultry throughout the United States and Canada. In the late eighties, Leonard decided to follow his father's lead and move to Sonoma to live and work closer to the rest of the Ledson family, where he worked as Steve's right hand man for 21 years.
Beyond his immediate family, Steve has come to rely upon his "extended family" of employees who have contributed to the winery's success with zeal equal to any family member.
Two great examples are Assistant Winemaker Jerry Padilla, who has worked with Steve for over 16 years, and Operations Manager Pat Geary, who's been with Steve for over 30 years. In that time, they say that Steve has been both a mentor and father figure; helping them with everything from buying cars to developing their professional careers. In particular, Jerry credits Steve with inspiring his passion for winemaking and for trusting him to travel across the country to host private VIP tastings for Ledson's most valued customers. Pat says, when it comes time to play, Steve is just as hands on; routinely inviting large groups of employees and customers out to dinner, to the ballpark, and even on vacation getaways–all in the name of making everyone feel like "family".
The Castle Becomes a Club House
Perhaps the best example of Steve's commitment to building the Ledson "family" is the winery's Wine Club, or more accurately–wine clubs–as there are now nine different clubs to choose from, catering to the wide range of tastes and price point preferences of the over 15,000 members and over 50,000 customers who buy every year.
Contrary to most wineries, Ledson sells 100% of their wines direct to customers – no middlemen, no brokers. Typically wineries consider this type of "hand selling" too time consuming and resource intensive, but for Steve it's the personal interaction and feedback that energizes him. He thrives on the enthusiasm his customers have for wine, both his and others, and enjoys creating the opportunities–whether winery events or informal get-togethers–to hear back from his customers. For a small town boy who came of age in an era when your customers were your friends, it's simply the only way Steve can imagine doing business.
In fact, it was Steve's enthusiasm for doing whatever it takes to make a customer happy that led to the original Ledson Wine Club. The year was 1997, and wine lovers Jan and Dave Holcomb were visiting Sonoma Valley from their home in Denver, Colorado. While driving along Highway 12, they passed a beautiful castle under construction and noticed a sign out front reading "wine tasting". They drove through the gate and noted that the construction crews were still at work so they pulled up to a double-wide portable building. Inside they met Michael Ledson, who told them that the castle had originally been intended as his dad's home, but was being converted into the winery's tasting room. After being poured Ledson's '95 Estate Merlot, Jan asked if there was a wine club they could join. Michael said he didn't think so and called Steve, who enthusiastically replied, "No, but start one!" That's how Jan and Dave Holcomb became Ledson Winery's first wine club members, and they're still members today. More importantly they're great friends of Steve's, as are many in the wine club, sharing family vacations, visiting each other's homes and routinely getting together over dinner to taste the newest wine releases.
It was over a new release that Steve met another of Ledson's long time wine club members, Tom Birt. The two became fast friends after finding themselves in a debate over the merits of the 2001 vintage versus 2002 vintage of Ledson Ancient Vines Zinfandel at one of the winery's barrel tastings. Steve appreciated Tom's palate and thirst for wine knowledge and Tom was drawn in by what he describes as "a dynamic force of nature with an infectious passion for wine, friends and fun". Like many who become part of the Ledson Wine Club, Tom has invited his friends to join as well. Unlike most, however, Tom seems to have an endless supply of friends, personally adding more than 100 new members to the club in just six years! Tom has been working weekends with Steve for the last five years and uses his vacations to assist with every harvest.
For Steve, having a family winery means more than building a winery for his family; it also means building a family for his winery – and between friends, employees and Wine Club members, he has done just that.
Epilogue – The Ledson Hotel & Zina Lounge
2003
You didn't think the story ended there did you? Not one to rest on his laurels, Steve Ledson started to look at the way in which tourists visited the Sonoma Valley, in particular the relationship between the very popular Sonoma town plaza and the wineries, like Ledson, that were located up valley. He found, after two years of interviewing plaza visitors, that many were unaware of the full complement of wineries in northern Sonoma Valley, opting instead to tour the more familiar destinations in Napa Valley. Steve had two goals in mind. He wanted to promote travel from the Sonoma Plaza up valley to his and other wineries and he wanted to create a social lounge, where wine club members, locals and tourists alike could comfortably gather for drinks and the good old-fashioned socializing that Steve fondly remembers from the "wet your whistle" front porches and "watering holes" he visited with his father as a young boy.
The idea that had first taken hold in 1997 became a reality in August of 2003, with the grand opening of the Ledson Hotel & Zina Lounge which was comparable to The French Laundry, but much more personal. Fronting Sonoma's Historic Town Plaza, the boutique hotel, bar, and social lounge was painstakingly designed to evoke Sonoma's rich history while providing all the luxury of the world's best hotels. Old world charm and modern amenities merge lavishly in each of the six, family-named rooms that grace the second floor. The ground floor bar and lounge, with its oversized fireplace and inviting sofas, spills out to the front patio where overhead heating and bistro-style seating provide a comfortable spot for world class people watching. Guests can choose from an extensive list of Zina and Ledson wines as well as take part in a world class wine and food pairing. A popular destination since its opening, the Ledson Hotel has been named to Cond é Nast Traveler's Hot List as one of two top hotels in California out of the 18 top hotels located in the US. And yes, this too is a family affair.
Steve wasn't the only member of the family being drawn to the winemaker's way of life. You see, when Barker Ledson married Edna Cunningham, he was marrying into a family that already had several generations of winemaking under its belt going all the way back to 1849, when Zina Hyde Cunningham packed up his life in Maine and headed west in hopes of striking it rich in the California Gold Mines. When that didn't pan out, he worked as a blacksmith for several years before he ended up purchasing a 160-acre ranch in Sonoma County where he focused on farming Zinfandel and Alicante grapes. Three years later, he became the first in a long line of winemakers.
Zina was hooked on grape growing and winemaking in California's north coast, and passed down the winery to his son, William, who in turn passed it down to his son Lloyd, who kept the family business flourishing until Prohibition forced Lloyd to convert all but a very small amount of his vineyards into growing walnuts, prunes, apples, and pears.
Lloyd's son, Bill, worked for many years as assistant to the Governor of California for the Board of Education, but he too felt the calling of the winemaker's lifestyle that was sown deep into his DNA. With a little encouragement from his cousin, Steve Ledson, Bill knew the time was right, and started sourcing grapes from the top vineyards in the area, and built his own tasting room in Boonville. By 2004, he was following in his great-grandfather's footsteps – he too had become a winemaker, and Zina Hyde Cunningham Winery was born.
In 2008, Bill Cunningham was lost to cancer, and that's when Steve took it upon himself to keep the Cunningham legacy going strong. The Zina Lounge now resides within the Ledson Hotel, in Sonoma California, where it has enjoyed much success, and has much yet to come.
2012
In December of 2012, Steve purchased the land that was to become Mountain Terraces Winery and Vineyards from close friends Gloria and Dan Schaefer, who had been growing and bottling their own wines for over twenty years. After having purchased fruit from the 125-acre property for over ten years, Steve mentioned to Schaefer that if he were ever interested in selling the vineyard, to give him a call. Not long later, the call was made, and Mountain Terraces Winery and Vineyards was born.
Steve's plan was to replant the whole ranch with new rootstock, different clones, as well as different spacing and row directions; to completely revamp the way wine was produced, and create ultra-premium, world-class wines produced exclusively for the elite Mountain Terraces wine club. Now Mountain Terraces has moved far beyond that original dream, and provides yet another outlet for visitors to enjoy and experience the wine country in all its glory.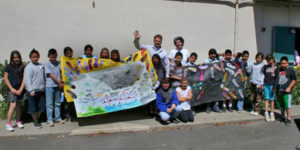 As you can already tell, Steve Ledson's childhood was idyllic. He grew up safe and secure, cared for by parents who provided the guidance and tools he needed to pursue all that life offers.
Unfortunately not all children are as fortunate. That's why, in 2002, Steve Ledson launched the Harmony Foundation, a privately funded, non-profit organization that provides direct financial support to children who have demonstrated a desire to learn, but who, because of circumstances beyond their control, have fallen through the cracks.
Over the years, Steve and the Harmony Foundation have enlisted the help of a number of high-profile celebrities–including Jeff Bridges, Michael McDonald, and Dwight Clark–to raise much needed funds. Through private label wine offerings and special winery events, the Harmony Foundation has helped hundreds of deserving children with donations of more than one million dollars. For more on the Harmony Foundation, including ways you can help, please visit www.ledsonharmonyfoundation.com