PRIVATE WINE TASTING $95 plus tax & 20% gratuity
Private Wine Tastings include five of our top scoring wines. These seated tastings are conducted in our private tasting suites by one of our knowledgeable wine consultants, personally trained and mentored by Steve Ledson.
While visiting the beautiful Sonoma Valley, there is no better way to enjoy such extraordinary wines while receiving impeccable hospitality in an exquisite atmosphere.
Reservations should be made at least 24 hours in advance. This is an experience you don't want to miss.
Cancellation Policy: We kindly ask that you please cancel 72 hours before your reservation to avoid incurring fees. Once we are within 72 hours of the reservation date, our experience fee is non-refundable. Please note we charge the full tasting fees per person, any food ordered from our Gourment Marketplace + tax and 20% gratuity, 72 hours before your reservation. 
CHEESE AND CHARCUTERIE $15 plus tax
Enhance your private wine tasting experience by adding a gourmet Cheese & Charcuterie plate for $15 per person plus tax.
VIRGINIA'S SUITE
The Virginia tasting suite is named for Steve's mother, and has been furnished with the utmost care highlighting the qualities that made her the amazing woman that she was. Family was very important to her, and she treated everyone that worked on the Ledson ranch as if they were a part of their family, making sure every single one was fed and happy. It was from her that Steve learned what real hospitality is. With that in mind, the Virginia suite was designed to be warm and inviting. Visitors that get to have a private tasting in the Virginia suite will get to experience good old-fashioned hospitality like you don't see anywhere else, while enjoying impeccable wines, with an amazing view of the vineyard just beyond the castle grounds.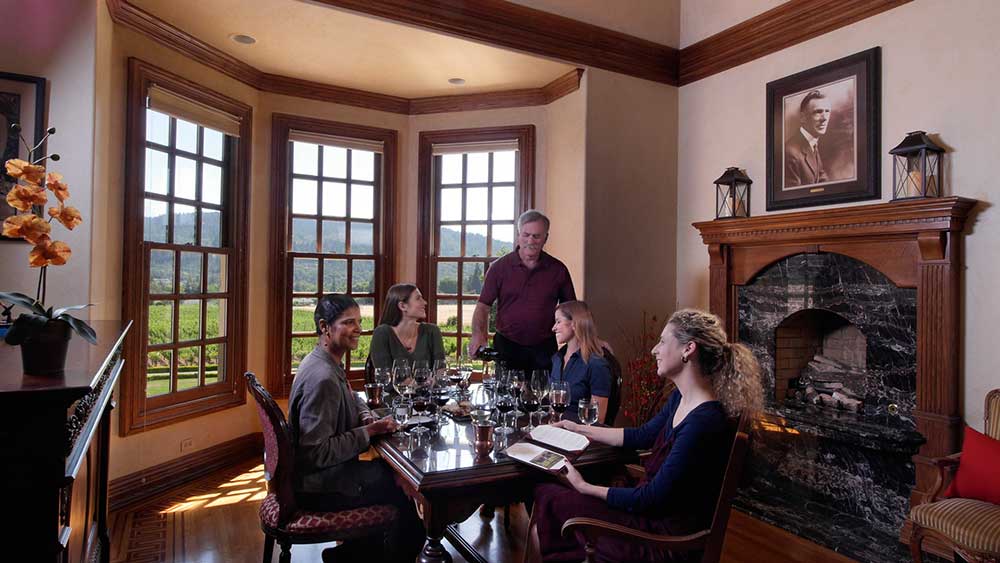 WILLIAM'S SUITE
The William tasting suite is named for Steve's great grandfather, William Cunningham. An overachiever at heart, William was able to recognize the same qualities in Steve's grandfather, Barker Ledson. William was immediately taken with him, and thrilled that he would be the man to marry his daughter, Edna. William took over for his father, Zina, in managing the Cunningham ranch, planting 35 acres of Zinfandel and Aleatico, and was widely known for his commercially available wine in the mid 1860's. Like everyone in Steve's lineage, he was a hard worker, and is very much responsible for the rich farming legacy that continues today. Visitors that have a tasting in the William suite will get to experience the warmth and the passion that William was known for, while tasting amazing wines, with gorgeous views of the front courtyard and vineyards.
HANNAH'S SUITE
The Hannah tasting suite is named for Steve's great grandmother, Hannah Cunningham. Hannah was William Cunningham's wife, and the matriarch of the Cunningham family. William was known for being an overachiever at everything he did, and Hannah was the perfect match for him. Intelligent, hard-working, and full of determination, Hannah would often be seen working right alongside her husband on the Cunningham Ranch, and later on in their 105-acre ranch in Kenwood after the Cunningham Ranch was sold in 1919. The work ethic and values that were established by William and Hannah Cunningham so long ago helped push the family towards the lasting legacy that you know and love today. Visitors that have a tasting in the Hannah suite will experience the generous and tender spirit that Hannah was known for, while tasting unforgettable wines, with a jaw dropping view of the front courtyard and vineyards.